The arts committee and parish priest at the St. Elizabeth Ann Seton have given me the green light to proceed with the enlargement of the four sculptures. The studio space conundrum has gotten in the way of my progress, but I have been encouraged by my ever-gracious and supportive husband to start anyway. Or in Julia Cameron's words, "Jump and the net will appear." And the weather has been pleasant lately, so if all else fails I can start working on the deck.
Yesterday, I spent the afternoon drawing up schematics and a plan for the armatures. Then I ordered some 48″ professional armatures from the Compleat Sculptor. (You know, for a long time I thought that compleat was just a funny way to spell complete. And it makes sense because they have a pretty complete line of sculpture supplies. But it isn't. It's better than that. It means "of or characterized by a highly developed or wide-ranging skill or proficiency" or "being an outstanding example of a kind; quintessential."  Try using that word today. And it's pronouced with a schwa  in the second syllable rather than a long e sound.)
I drew a handy diagram on some graph paper, but when I was in the garage yesterday consulting with a contractor, I noticed a ton of lumber I could pilfer for making a sculpture stand. I need the sculpture three feet off the ground so that I can have proper perspective. And it will need to spin. Can I take the casters off of that old model stand? I may need some help to move all of this stuff around, but I think I can save a lot of money by re-purposing some old materials.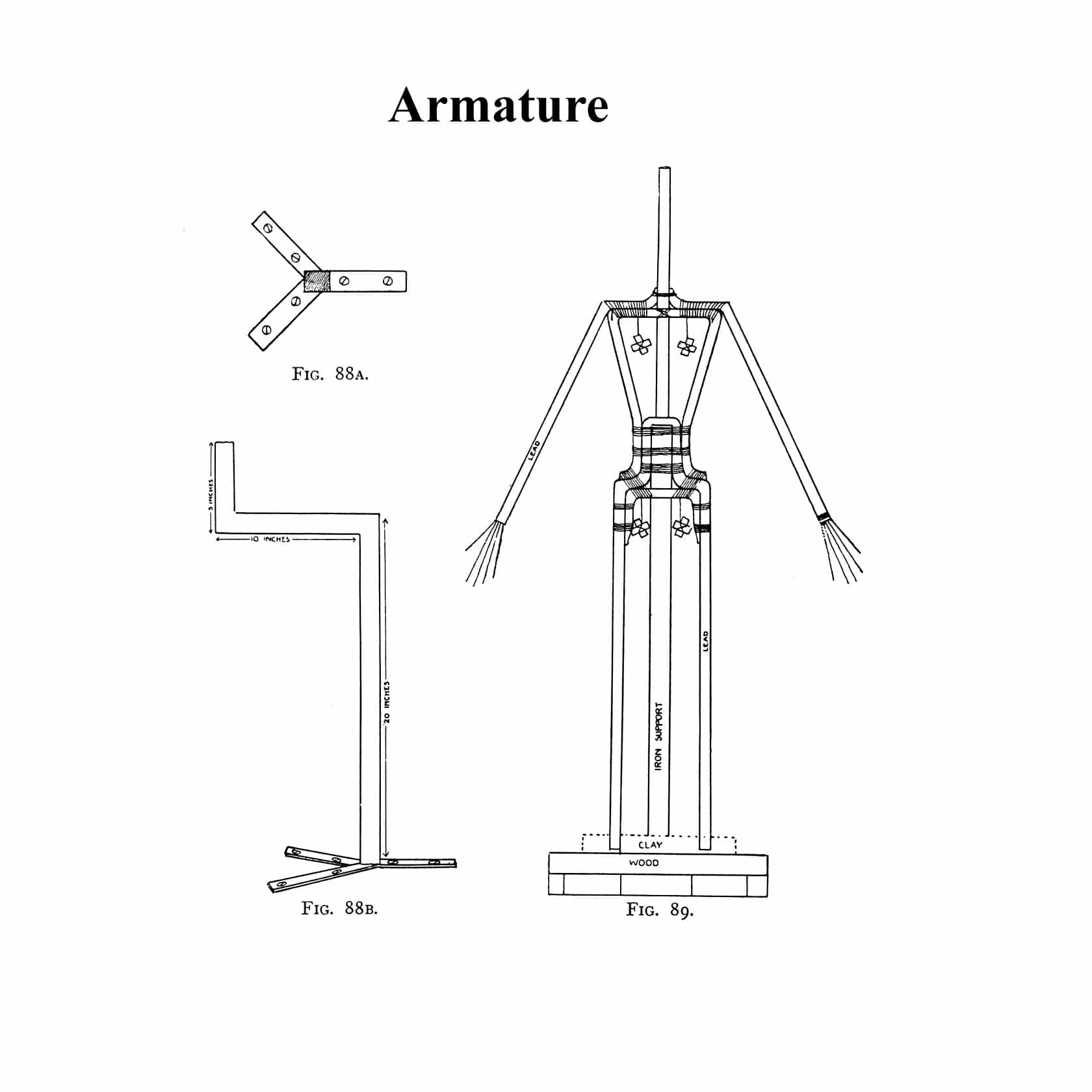 What on earth is an armature, you ask? (While I was looking around the interwebs for an article about armatures, I found Kathryn Porter's website. Nice work!) Basically, the armature is a skeleton made of bendable aluminum that holds up the clay in any position you desire. Here is a great article about armatures by a sculptor named Emily Bedard. For example, here is a picture of an armature that I used for the 18″ model of St. Luke. You can see the tiny maquette I made. It was so small that it didn't need an armature!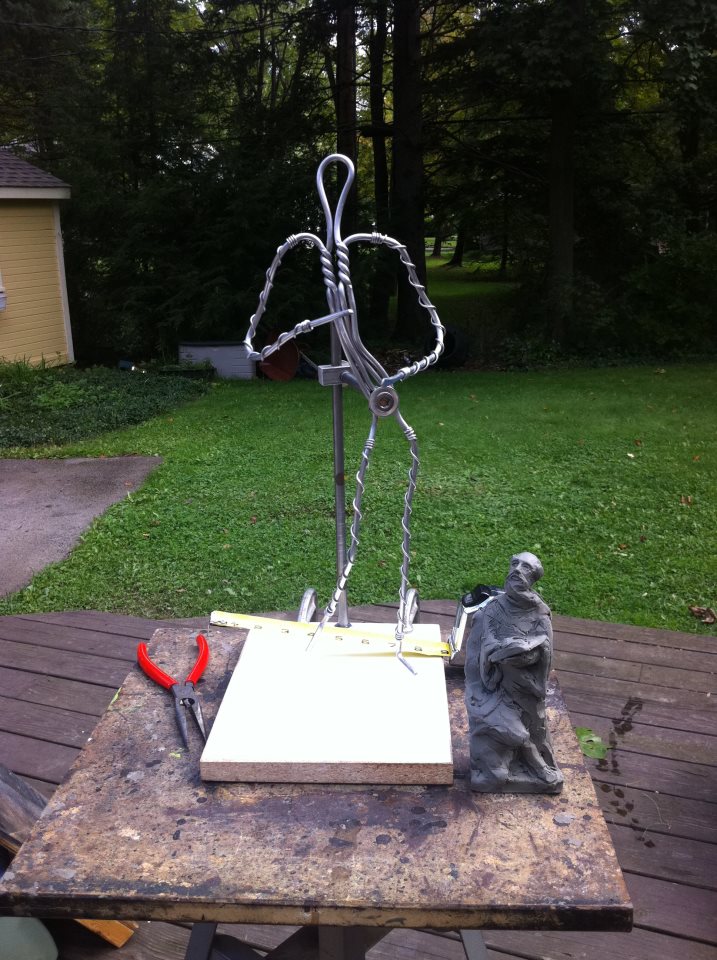 The larger a figure is, the more complicated the armature becomes. It needs to be stronger because the weight of the clay will be intense. When I was working on St. Joseph, I had to hire someone to weld an armature together. The gauge of wire was so think that I couldn't bend it myself. Here I am back in 2003/4 with the clay St. Joseph. You can see the wire poking out where his hand will be.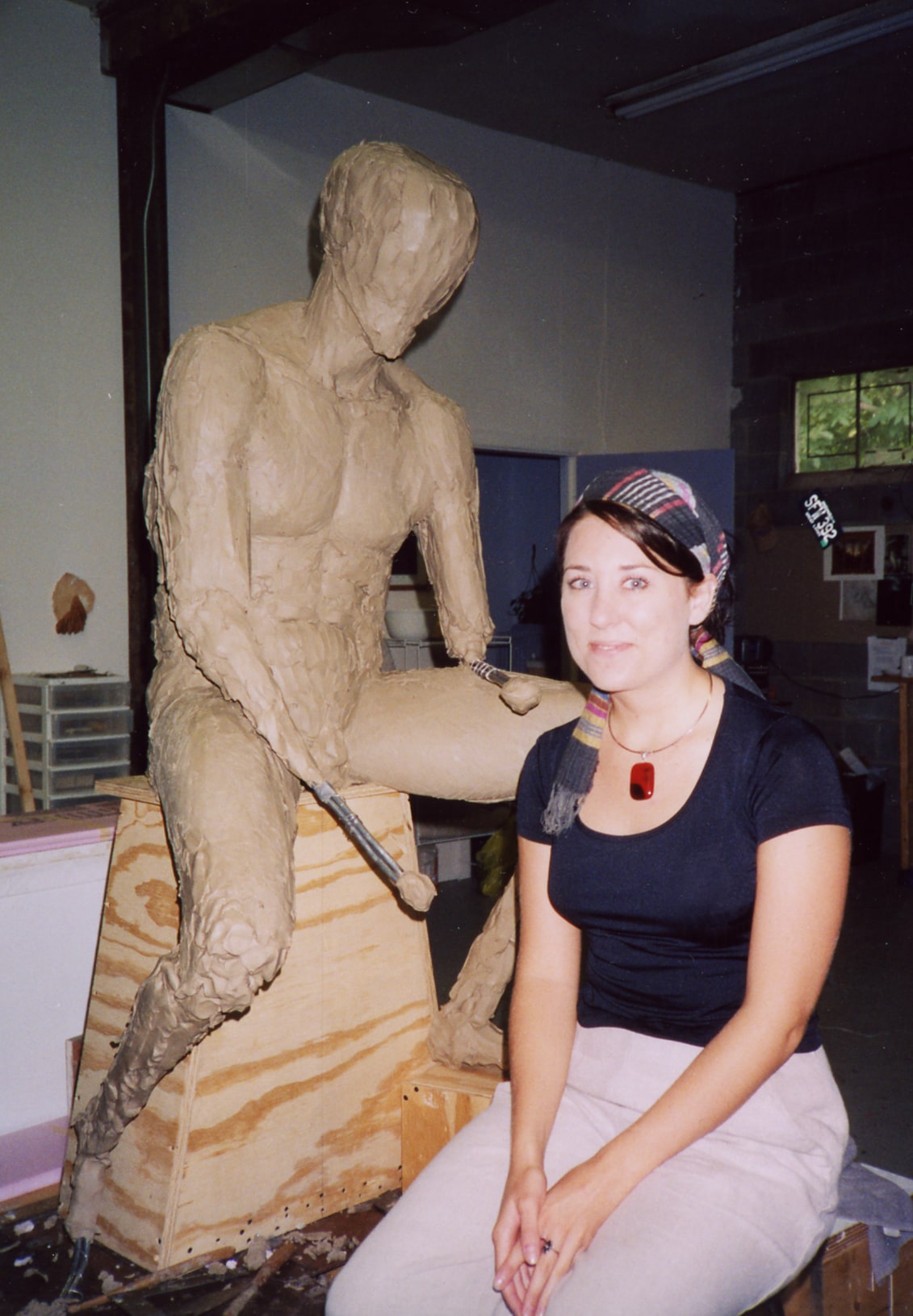 Since the sculptures for the niches at St. Elizabeth Ann Seton are only about four-feet tall, I was able to order armatures that I will be able to bend using some tools. I will affix the armatures to a wooden base and fill out the torsos with insulation foam and wire mesh. Then will begin the fun part: adding the clay!
In the meantime, #prayforstudio.