A CASE STUDY: THE CLAIRE MCCARDELL PROJECT A Case Study: The Claire McCardell Project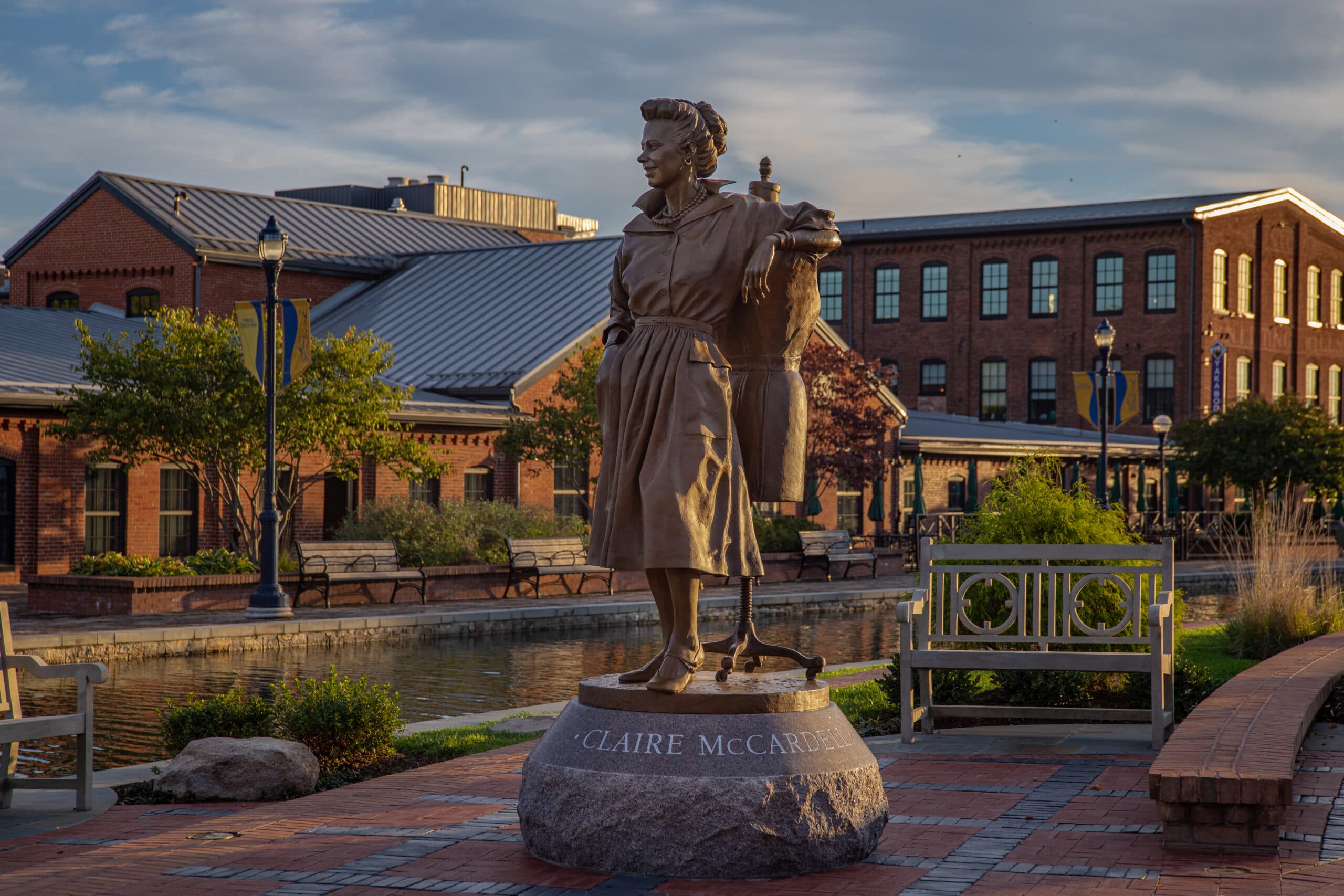 The Claire McCardell Project is a tremendous undertaking by the women of the Frederick Art Club to honor fashion icon and Frederick native with a larger-than-life bronze sculpture, beautiful garden, and accompanying wayside exhibit. 
Claire McCardell was born in Frederick, Maryland in 1905. She had three brothers and enjoyed playing outside and climbing trees. She was frustrated wearing dresses and skirts, corsets, and garments with highly structured seams that restricted movement. She needed clothes that allowed her to move freely. These kinds of garments were not available to women at the time, so Claire learned to sew and made her own. 
"I've always designed things I needed myself," McCardell said. "It just turns out that other people need them, too."
After two years at Hood College, she made her way to Parsons School of Design to study fashion. With a combination of hard work, tenacity, and a little bit of luck, Claire's designs hit the department stores and were a tremendous success. She presented American women with designs that could accommodate a variety of figures and that allowed the freedom of movement. Plus, she included pockets in nearly every garment. 
Formed in 1897, the women of the Frederick Art Club sought a way to celebrate their 120th anniversary by honoring Claire McCardell. With only 7% of the statues in the United States honoring women, The Claire McCardell Project is a part of an effort to "shatter the bronze ceiling" with a monument to a woman, sculpted by a woman, and commissioned by a women's organization.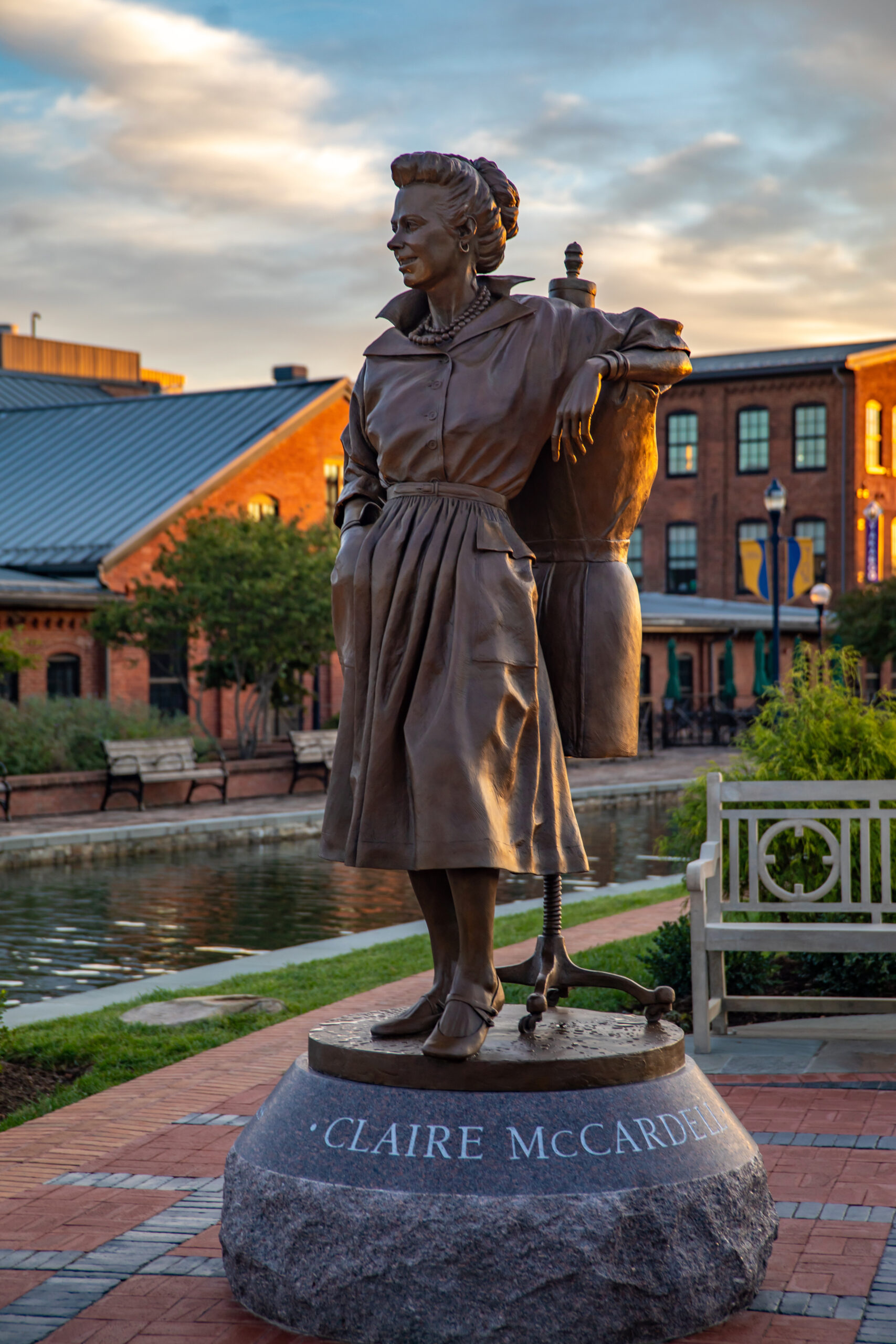 View our commissions page for more information on how to get started on your own monumental project!
The Claire McCardell Project Timeline
From an Idea to a Monumental Sculpture
Fall 2018- Sarah is approached by The Frederick Art Club to be the sculptor for the Claire McCardell Project, The next year would be spent refining the vision, understanding the process, and fundraising.
Forthcoming: A Guide to Commissioning a sculpture, so you can more quickly through this step!
Spring 2019 - Sarah meets with the model to work out ideas and get photo references to begin the maquette. Research trips to Historical Society, Hood College, and the Maryland History Museum as well as Italy
Summer 2019 - Sculpted scale model to present to the client for approval. Shot a promotional video for fundraising and hosted the first fundraising event. 
Meetings With City Officials
September 2019 - Attended meetings with city officials to discuss planning and zoning. Interviewed for Frederick Magazine article.
October 2019 - Big fundraising Gala and model unveiling with the Historical Society, Patrons, and City Officials
November 2019 - Work on 1/2 scale model begins
March 2020 - The COVID-19 pandemic caused lockdowns that prohibited work n the sculpture.
March 2020- Everything grinds to a halt.
August 2020- March 2021 Sculpting the full-scale sculpture in clay
Model Completed & Mold-Making
Finish Clay Sculpture! Mold-making begins and is sent off to the bronze foundry to be cast. 
June 2021 - Travel to the foundry in Colorado to inspect waxes before the bronze is poured. Order granite pedestal.
Learn more about this process >
August 2021 - Landscaping and site preparation for the final bronze and pedestal begins
September 2021- Granite pedestal arrives at the site. Bronze is finished and arrives at the site for installation
October 17, 2021 - Unveiling celebration with The Frederick Art Club, Patrons, Guests, and City Officials.