Christ Falling under the Cross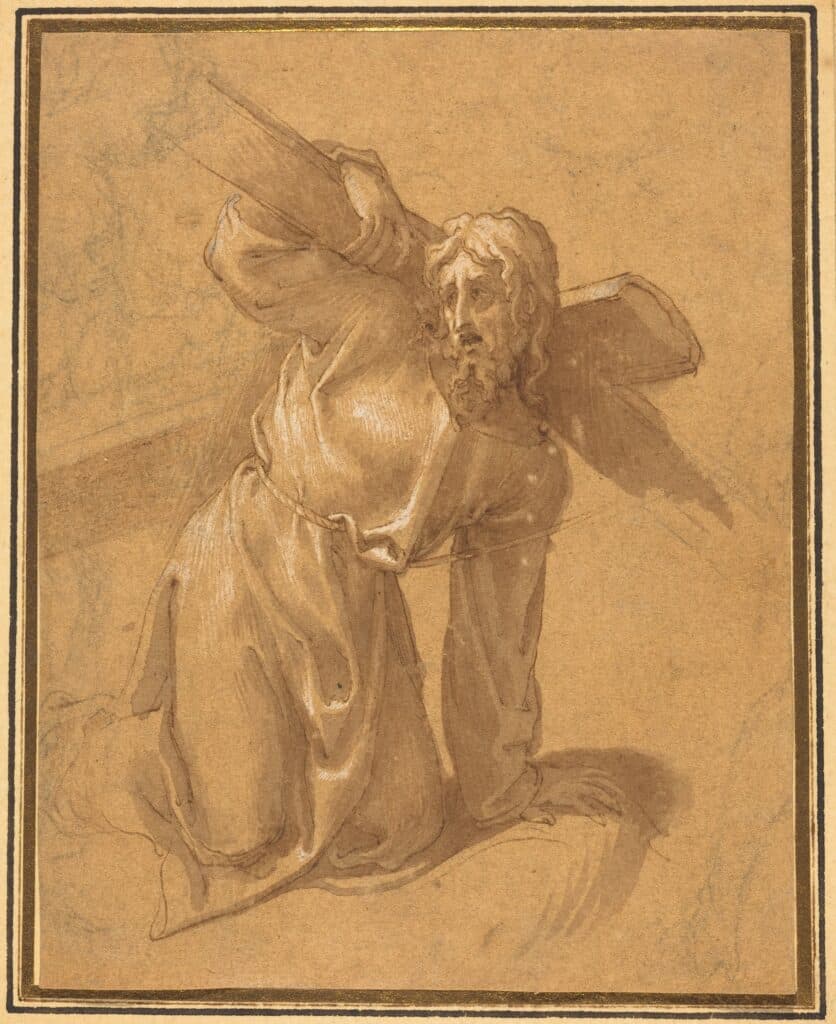 This 16th-century Italian drawing by a follower of Francesco Salviati of "Christ Falling under the Cross"
was created using pen and brown ink with gray-brown wash and black chalk, heightened with white gouache on brown laid paper. It is the perfect subject matter for Lent, a season when Christians prepare for Easter. One of the spiritual exercises that many Christians do during Lent is walk the Stations of the Cross.
The Stations of the Cross are a series of 14 images depicting the Passion of Christ, from conviction to burial. The faithful walk from Station to Station meditating on the suffering of Jesus, who in the Christian view, is God incarnate. This drawing may have been a preparatory work for Station III where Jesus is shown falling beneath the weight of the cross.
This drawing uses ink washes and might be a fun opportunity for you to break out some old India ink! If not, you can rub a pencil or charcoal against a sanding block to create a small pile of dust. Use a dry paintbrush to paint with the dust, then go in with your sharpened pencil or charcoal to define the lines. Use an eraser to pull out some highlights, then go over it with white chalk. Have fun!
The Strathmore toned paper or the Canson Ingres paper would be perfect for this drawing. However, if you like to keep your drawings in a notebook, no special paper is needed for Master Drawing Mondays.
The key principle here is to spend time looking closely and studying the quality of line of an old Master Drawing.
---
Wait… I missed what all of this is about!
The challenge of Master Drawing Mondays is to set aside time to copy a drawing. You can either choose from a book, or I will provide a weekly prompt from a museum collection. If you are on social media, use the hashtag #MasterDrawingMonday and tag me on Instagram @SarahHI. Let's see how many out-of-practice artists we can encourage to take up a regular practice of copying the old masters!
Share your drawings on social media, or hang it on your mom's fridge!
#MasterDrawingMondays
---
#MasterDrawing Mondays is free and open to anyone. All of the links on this page are to outside sources. I do not receive compensation for any sales of books or art supplies.