From the Archives: 07/02/2018.
I wrote this after returning from my first visit to Paris in 2018. I had dreamt about the City of Light since I was a child. I finally booked airfare for my 40th Birthday, but was derailed by a cancer diagnosis, surgery, and chemotherapy. As soon as I got clearance from my doctor, my family jetted off to Paris. In 2023, I'm packing my bags to head over there a second time for an artists residency.
Here are my memories of that first day:
---
An Artist Abroad, Day 1
We returned home last night. The house was nearly 90 degrees and stuffy, but everything was exactly as we left it. I went from room to room, opening windows and letting in the warm, humid summer air. We had hired a cleaning service to scrub down our house top to bottom before embarking on a long trip, because we knew how hard it would be to come home to a home in need of cleaning. Usually I leave myself a bottle of wine because I know how exhausted we are after travel. I consider it a gift to my future self. I think I drank it before we left because there is no wine in the house, only a jar of apricot preserves and some pantry dry goods.
While we were in the City of Lights, I didn't journal every evening like I had planned. I didn't even keep a sketch book, as every artist ought, though I did manage to paint a few memories in watercolor. I did sit and breathe in the Parisian air. It became a part of my cells, nourishing my body with that creative magic that all artists and writers traveling to Paris hope to catch. As if just being there can make you a better artist.
Day 1: Prisons, Madame Guillotine, and Arugula
We rented an apartment from Cobblestone Paris (highly recommended) on Rue de la Roquette in the Bastille neighborhood. The street was named after La Petite Roquette, a prison that opened in this place in the 1830s and another prison, La Grande Roquette, which became the site for Madame Guillotine in 1851.
In my limited knowledge, I thought that our street was named for a salad ingredient, rocket. We don't call it that in the United States, at least I've never heard anyone call it that. We call it arugula and it's in every Parisian salad.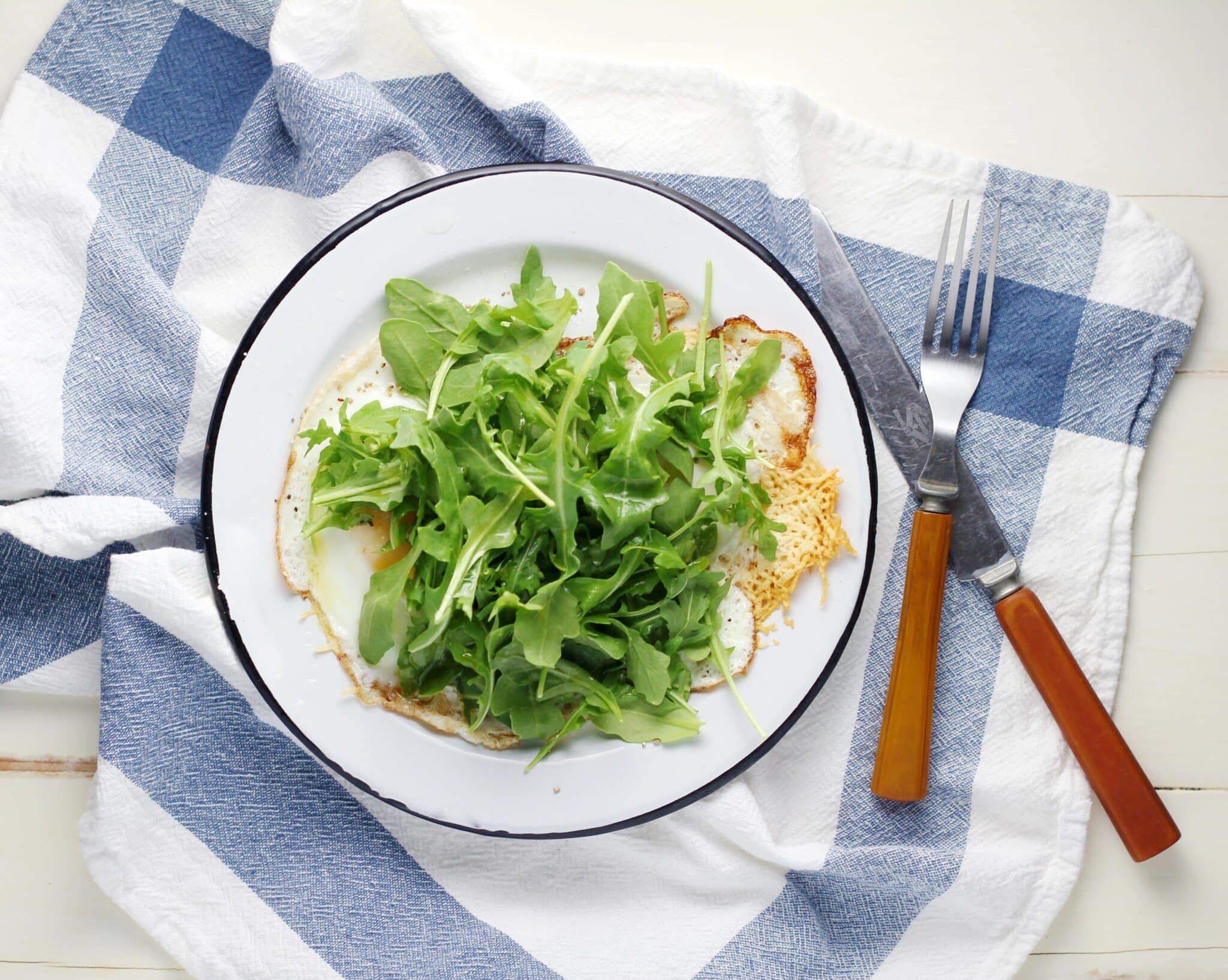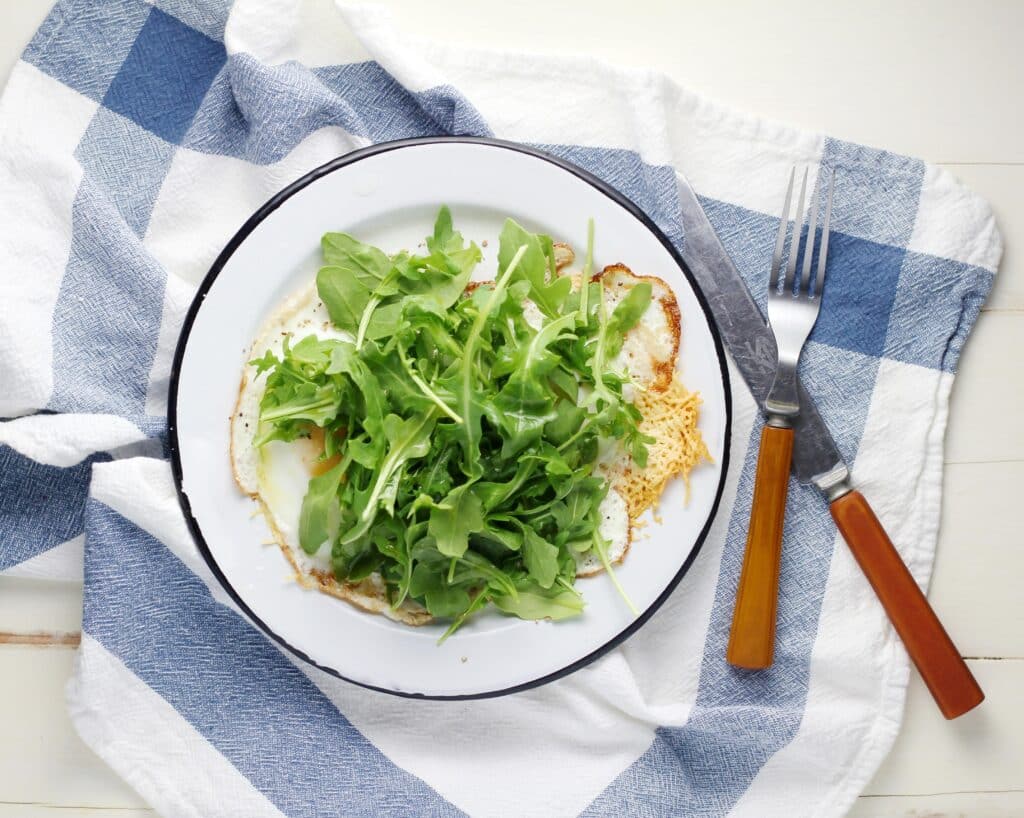 A Real Boulangerie
We took a shuttle service from the airport to the apartment to avoid having to drag heavy bags throughout the Metro. We met our greeter at the boulangerie across the street, Maison Passos. It was everything that I hoped for in a real Parisian bakery. We had been traveling throughout the night and it was nearly noon. We were starving. I ordered a leek quiche (quiche aux poireaux) and a few croissants for my family. My daughter got the ham and cheese sandwich, baguette au jambon et au fromage, not to be confused with the grilled ham and cheese and perennial kid favorite: croque monsieur.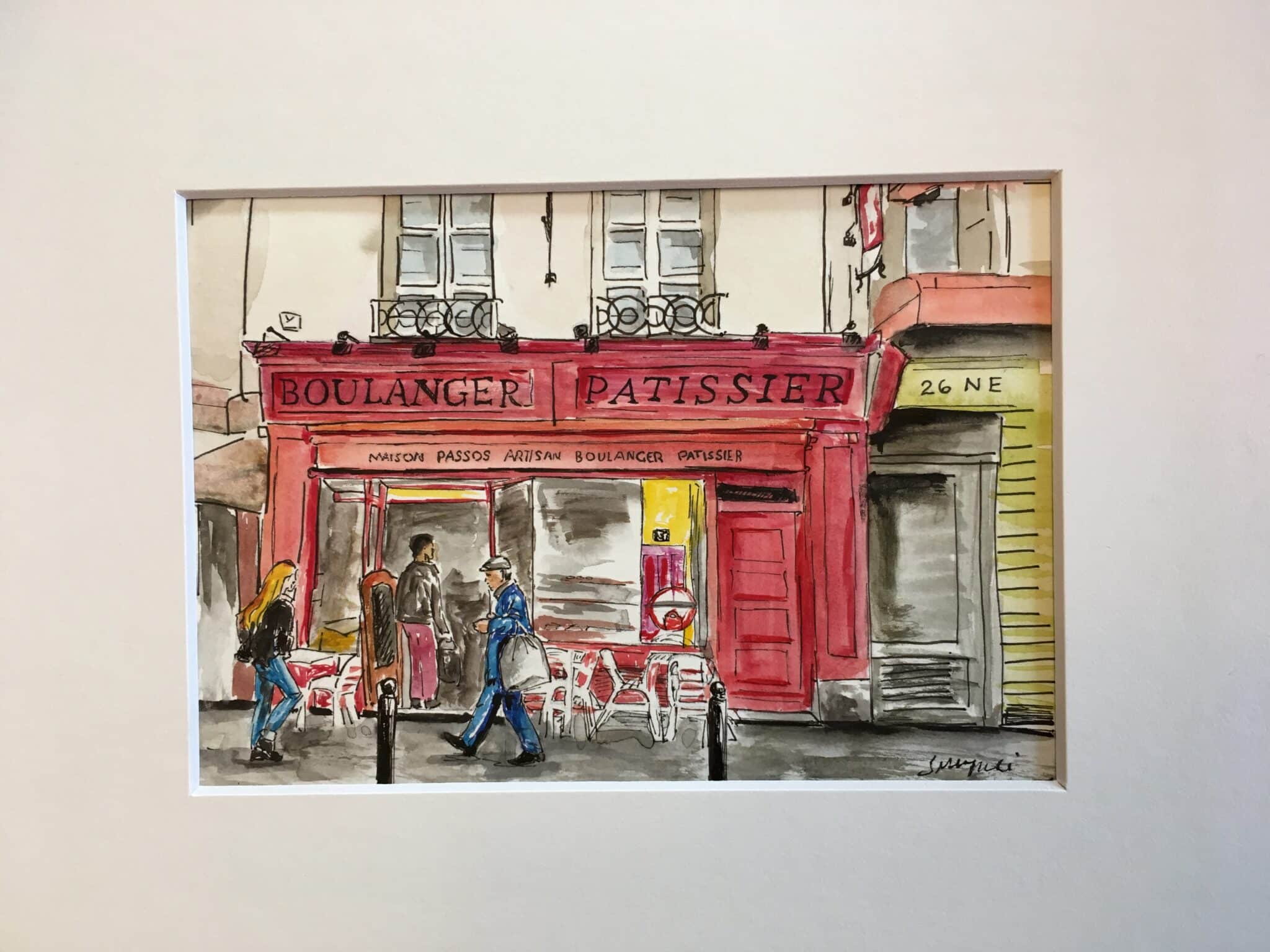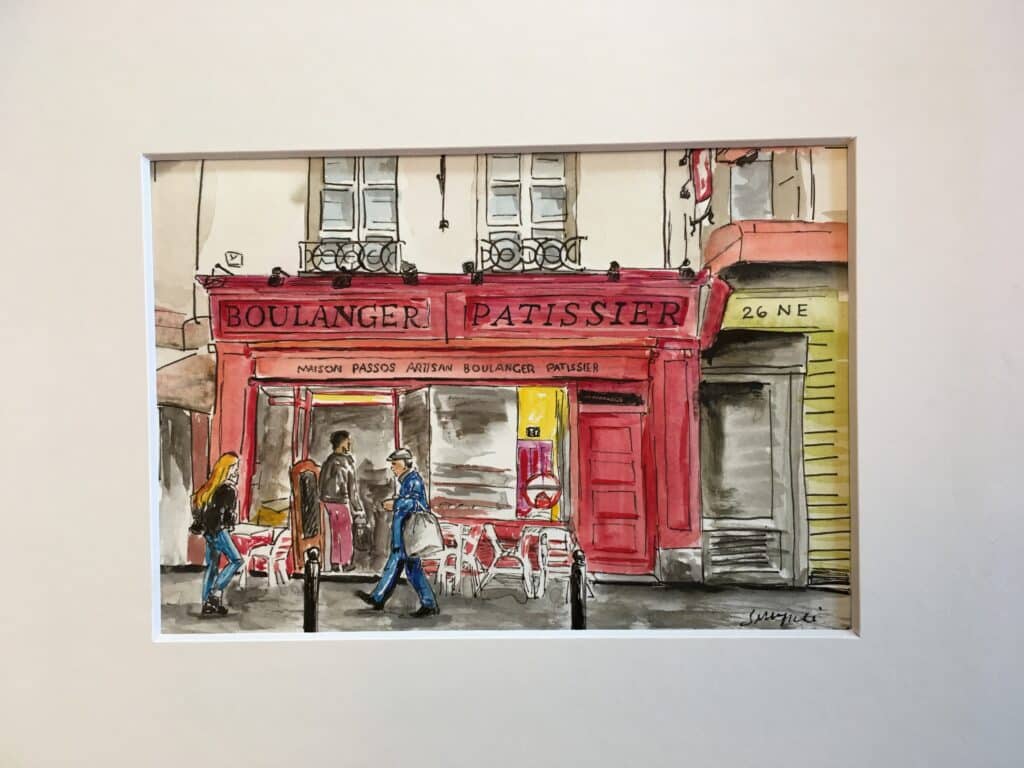 Flânerie
We settled into our apartment, freshened up; and decided to take a walk in Le Marais, loosely following Rick Steve's self-guided walking tour as a guide. When I say, loosely, I mean that we first strolled along the Seine, practicing our flânerie. It's hard to slow down that Metro DC walking pace to the slow saunter of someone with no place in particular to go. Having dreamed about Paris so long, I felt as though I were floating in a dream, or had stumbled upon a place I've always known. The clouds were heavy the first day, graying the sky and the buildings. Paris is not a colorful city. It all takes on a harmonious monochrome from across the river.
Before finding our way to the 4th Arrondissement, we ran into Saint-Jacques Tower. I was not familiar with the history of the tower, but was fascinated to find out that there was once a church in this space, dedicated to Saint James the Greater. The church marked a beginning for pilgrims heading out to Tours, then to follow the El Camino del Santiago de Compostela to the final burial place of St. James on the coast of Spain. So, it seemed an appropriate spot for we pilgrims to begin our sojourn in Paris.
We finally made our way to le Marais, 4th Arrondissement, and enjoyed a lovely selection of macarons at Monsieur Benjamin's. The neighborhood was beautiful and lively with people talking over glasses of wine and salads. We ended our first day fairly early, fatigued from the long journey. We were grateful to have a cozy, clean apartment to return to so that we could live like locals for the week.
À plus tard !