On October 17th, as many as 400 people gathered together to celebrate the unveiling of the Claire McCardell statue on Carroll Creek. It was the culmination of over two years of work. Having so many people come out on the blustery fall day meant so much to me and the women of the Frederick Art Club, who made this all happen.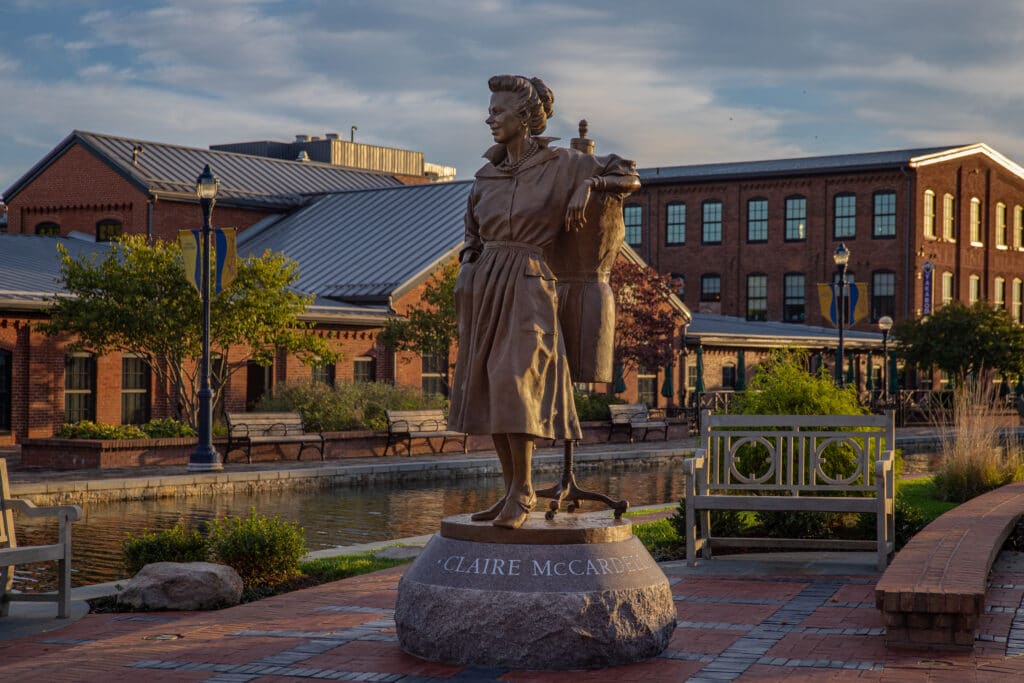 In the Press…
Honoring an icon: Frederick Art Club unveils statue of fashion trailblazer Claire McCardell
By Angela Roberts aroberts@newspost.com Oct 17, 2021
Even as a chilly autumn breeze buffeted the leaves of green trees Sunday afternoon, a steady stream of people gathered on the walkway outside of Idiom Brewery.
Since there were far too many to each claim a seat at one of the white folding chairs set up by the edge of Carroll Creek, many instead perched on brick walls or remained standing, craning their necks to see the small lectern positioned at the front of the crowd.
They were there to celebrate the culmination of more than two years of hard work by Frederick sculptor Sarah Hempel Irani and a women-driven team spearheaded by the Frederick Art Club. (Not to mention a three-day, 1,680-mile car ride from a foundry in Loveland, Colorado, to downtown Frederick's Carroll Creek Linear Park.)
New Claire McCardell monument helps to put the iconic fashion designer — and Frederick — on the map
By Lauren LaRocca llarocca@newspost.com Oct 14, 2021
Over the past two years, sculptor Sarah Hempel Irani and a team spearheaded by the Frederick Art Club has worked tirelessly to bring a bronze statue of renowned fashion designer Claire McCardell to Frederick. It will be unveiled to the public on Oct. 17 at its permanent location along Carroll Creek Linear Park.
But its installation is bigger than Sarah, bigger than Claire, and bigger than Frederick.